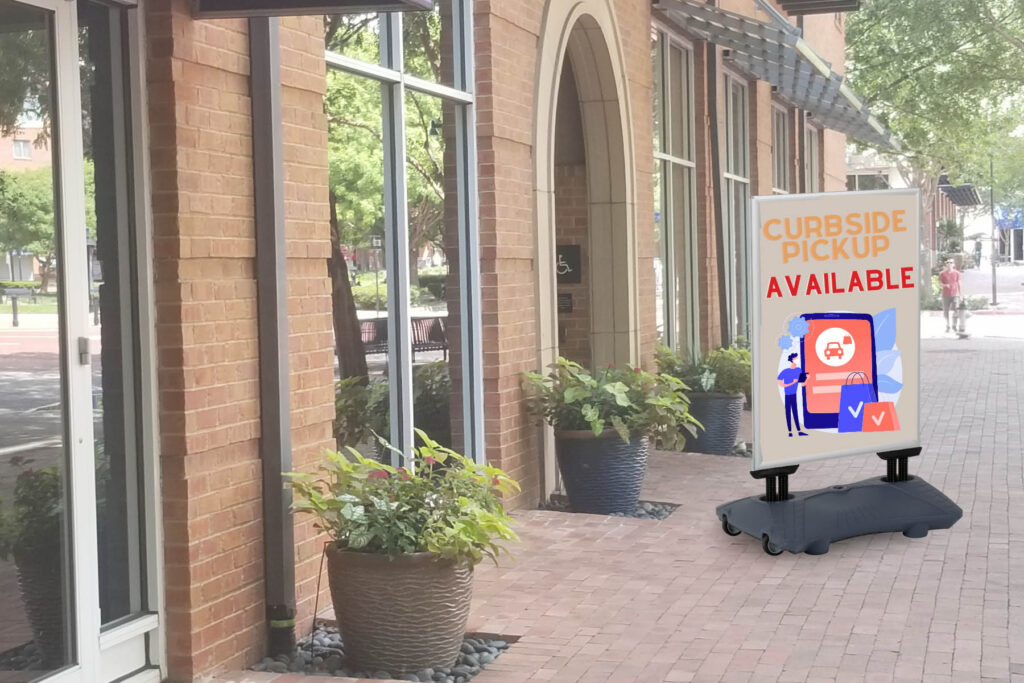 Even for the biggest optimists, it's not easy to find the positives in a global pandemic – Covid-19 has brought stress, hardship and heartache to so many.  But if we had to choose one positive thing to come out of this crisis that we're still living through, it has to be the resilience of the human spirit.
From wars to natural disasters to pandemics, our overwhelming instinct is to carry on, to find a way through – and that's what we've been doing for the past 18 months in life, in medicine and in business.
So many industries have been adversely affected by Covid, not least of which the retail sector, which has faced long periods of closure interspersed with times when they could only open under heavy restrictions that completely changed the way people shopped.
At Frontline, we were delighted to be able to support the retail sector by supplying the infrastructure employees and customers needed to navigate a whole new world of shopping.  Key to this was a hero product that has become a real bestseller for us since the beginning of the pandemic: the Seattle outdoor display.
What is Seattle?
Seattle is a large-scale outdoor display designed for use on sidewalks and forecourts.  It stands 4ft tall, and features a double-sided, snap front display that allows the user to easily load in poster-sized graphics behind a waterproof cover that protects them from the elements.  The display itself is spring-mounted onto a heavy duty, moulded plastic base that can be filled with sand or water.  The combination of weight and flexibility means that Seattle performs brilliantly in bad weather, and is sturdy enough to withstand the wear and tear caused by heavy foot and vehicular traffic.
How did Seattle help retailers?
When government-mandated lockdowns kicked in last spring, retailers were forced to close their stores with immediate effect.  When the proposed 'short and sharp' lockdown began to drag on, many retailers took the initiative to operate within the restrictions by launching curbside or 'click-and-collect' arrangement for their customers' convenience.  As restrictions eased further after the first wave, these services ramped up and extended to include businesses in the hospitality sector.
The Seattle sidewalk sign proved to be the perfect tool for businesses looking to set up these arrangements, providing an affordable way to get large-scale signage in situ quickly.
Over the course of the pandemic we've seen the Seattle used in lots of different ways, including:
Highlighting curbside pickup points

Signposting for small businesses

Menu displays for restaurants offering takeout

Directing traffic flow in parking lot queue systems

Wayfinding & safety information 
In the spring of 2020 we sold almost 400 Seattle displays to a single retail customer for 76 US locations in 11 states, and throughout the pandemic as a whole, we've shifted almost 1500 units across North America – that's almost 90 units a month throughout the pandemic so far!  We were able to provide further support by shipping the displays to the individual store locations, ready for immediate use.  At one stage we completely sold out of Seattle – and as well as feeling great that we could support our nation's retailers at such a difficult time, these sales benefited businesses and individuals right along our supply chain.  As a family run business this meant us and our employees, our distributors and their individual sales reps and their customers, the print shops.  It's a cascade effect that shows the importance of supporting local business, which is something we're committed to here at Frontline.  How's that for a silver lining?
To find out more about what we do at Frontline or to enquire about our products, get in touch.