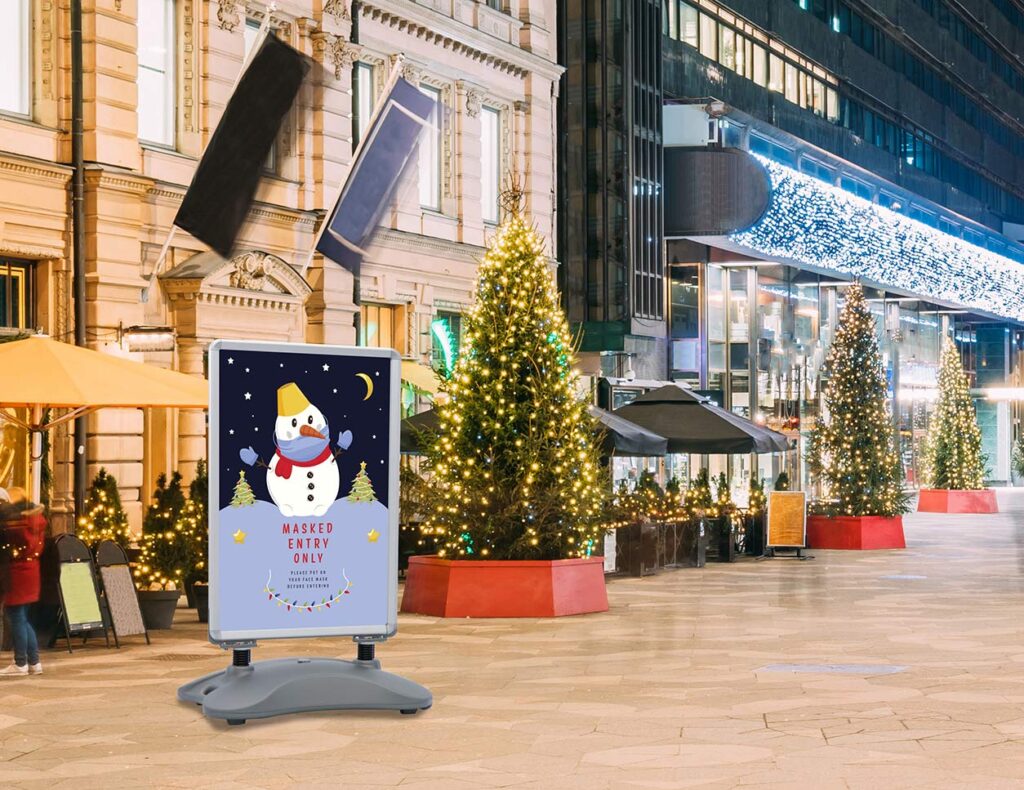 There are only weeks left now until we enter the busiest period of the year in retail.  At the end of November, Black Friday will mark the beginning of what's now widely referred to as 'Cyber Season' – a period of intense shopping activity that carries right through to the festive period and onward into the January sales.
While much of this increased activity is focused on the online sector, physical stores are also keen to get a slice of the action – especially if they have both an online and an offline presence.  While online benefits from algorithms and digital marketing to help get brands in front of customers, physical stores have to rely on more traditional ways to stop shoppers in their tracks.
So how can you make sure your business gets noticed this cyber season?
It's an unfortunate fact that we live in a time of digital distractions and more often than not, your customer is drifting along, gazing at their smartphone and paying little attention to their surroundings.  This means that in order to catch their eye, you have to get in their face!
Taking your brand to the customer, rather than hoping they'll come to you, is a great way to do this, extending your marketing beyond the physical footprint of your business outward and increasing your potential reach.
Outdoor signage is the perfect tool for getting your messaging out into the world, maximising the space you have available to market your brand or service and capturing the attention of people who don't already know you exist, or who might not be aware of your seasonal offers and promotions.  
Sidewalk signs in particular are great for attracting impulse shoppers – they're positioned at just the right height to catch the eye of passers-by on a bustling street, creating both a visual and a physical presence that's proven to stop people in their tracks.  These signs come in a range of sizes and formats, making them ideal for year round use in all weathers – and they make it really easy to change up your graphics or promotional information – simply slide in a new poster and you're good to go.
If your business isn't close to a pedestrian area, you'll need to think bigger – or specifically taller – when it comes to getting noticed.  This is a great tip for businesses with limited outdoor space too – go vertical!  Feather banners and light pole kits are a great way to literally elevate your promotions and make sure you get noticed from a distance, as well as by potential customers travelling by car or public transport.
Here are some more tips for getting noticed this cyber season:
Create a professional-looking window display
Shoppers are much more likely to be enticed into your store or restaurant if your window display looks professional.  While big chain stores can avail of professional visual merchandising, independent businesses have to get creative on their own!  Using poster hangers or retractable banners is a great way to create an impactful window backdrop in minutes, with no design expertise required.
Multiply your impact
If you've got the space, it can be a great idea to multiply the impact of your display by repeating it.  Instead of one sidewalk sign, try creating a series of three or four, spaced at intervals on the approach to your location.  If customers miss seeing the first one, they're bound to see a subsequent one!  You can also create intrigue by segmenting your message so people have to read the whole series to find out what they want to know.
Be bold
Whatever type of display you choose, it's important to think carefully about graphic design in order to get the biggest impact – especially in the crowded festive marketplace.  Very busy designs with too much detail or fine print are less likely to grab consumers' attention, while very simple, bright or even funny graphics and messaging can generate real cut-through at this time of year.  Don't be afraid to stand out!
For help getting noticed this cyber season, contact us!