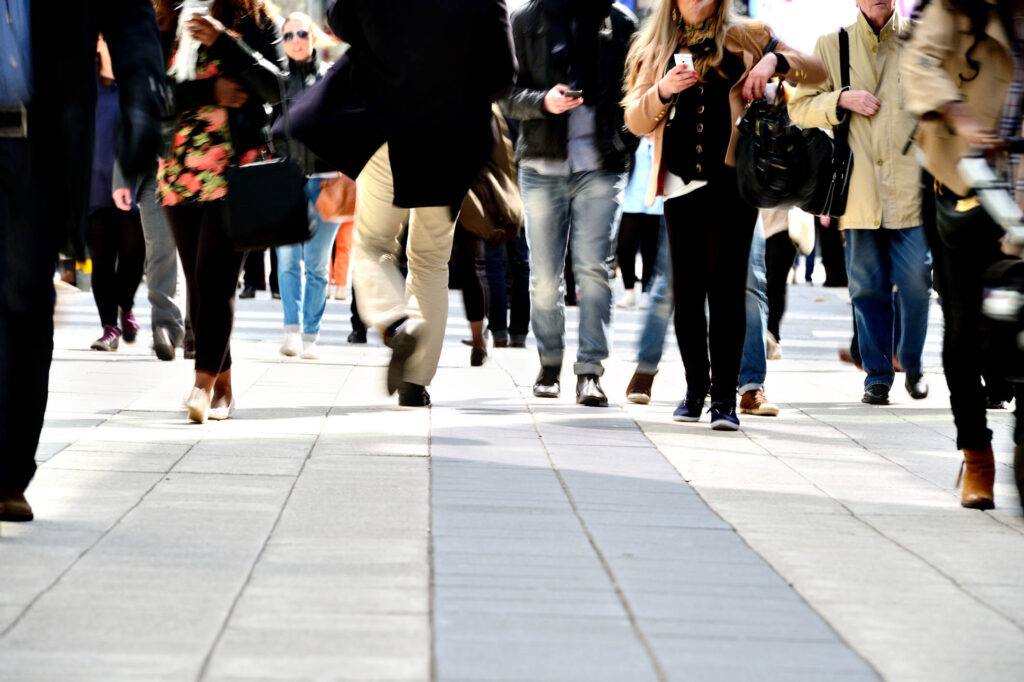 Sidewalk displays have always been an important tool for businesses across a wide range of sectors, particularly retail and hospitality venues that rely on being able to attract passing footfall.
Over the past 18 months, sidewalk signs have taken on a whole new importance since we've often been unable to actually enter stores and other venues.  They've been vital for wayfinding, safety information and those all-important 'we're still open' messages that companies have needed to display prominently, outdoors, in all weathers.
That's the real beauty of the sidewalk sign – it's a robust tool that won't let you down no matter what industry or location you're in.  There's a sidewalk sign to suit every application, from the luxury fashion boutique to the rugged outdoor pursuits centre.  So which one is right for you?  Take our quiz to find out!
1.Where is your business located?
a.Within a shopping mall or covered precinct
b. On or near a busy city centre street
c. Near a road or highway
d. In a rural location
2.How often will you need to move your sidewalk display?
a. Frequently throughout the day
b. Regularly, once or twice per day
c. Rarely, once per day or less
d. Hardly ever, I can leave it in situ all the time
3. What kind of traffic will be passing by your display?
a. Light to medium foot traffic, mostly one way
b. Medium to heavy foot traffic, both directions
c. A mix of foot and vehicular traffic
d. Heavy vehicular traffic
4. What kind of graphics will you use for your sidewalk display?
a. Sleek designs that don't change often
b. Frequently-changing posters
c. Posters that are only changed periodically
d. Graphics that only get replaced when they're damaged
5. How important is the visual appearance of your sidewalk display?
a. Really important, we have an image to maintain
b. Important, we want it to look smart
c. The graphics are more important than the display
d. Not important – we're more interested in functionality
Mostly A's: New York 
You're a style-conscious business most likely located in a city centre as a stand-alone venue or within a chic shopping mall.  Discount events aren't really your thing, but you still need to remind customers you exist, so you rely on being able to move and reposition your sidewalk display to capture people's attention, making the New York's lightweight design ideal.  This sleek stainless steel frame accepts rigid plastic panels, giving it a truly premium feel.  Graphics are super quick and easy to change, but the same panels will last for ages – ideal if you like to rotate the same messages around.  The New York is perfect for use both indoors and out, and will dovetail seamlessly with the stylish image of an upscale boutique, restaurant or hotel.
Mostly B's: Boston
You're an urban business attracting customers on foot, located in a busy spot where performance is just as important as looks.  You need a robust and versatile display that's easy to move around, and simple to update when you've got a promotion or event happening.  Say hello to your perfect partner – the Boston!  With its strong yet lightweight aluminium frame and simple snap-loading mechanism, the Boston is double-sided for catching attention in both directions.  It folds flat for easy storage when not in use, yet is robust enough to withstand busy curbside environments – though it's also great indoors.
Mostly C's: Seattle Series
It's most likely that your business is in an urban location, but perhaps not the inner city – you have to contend with a mix of foot and vehicular traffic and your sidewalk display needs to be sturdy enough to cope with these as well as all kinds of unpredictable weather conditions.  With that said, you like to move your display around from time to time to get the best results, our Seattle series are likely to be your perfect fit!  The Seattle is a spring-mounted, double-sided outdoor display designed to be easy to relocate or bring indoors after closing time, but the sprung base means it won't blow over on windy days.  The simple snap-loading graphics mechanism makes it easy to update your poster as and when required, and the integrated poster cover protects against moisture damage from rain or snow.
Mostly D's: Seattle XL or Philadelphia
Your business is a little off the beaten track – located in a suburban or even rural setting, you might be involved in an industry such as agriculture, outdoor pursuits or even roadside hospitality.  Your sidewalk display needs to be virtually indestructible to cope with everything the elements and heavy passing traffic can throw at it.  Our Seattle XL display is an excellent choice – it's extra large making it easy to read from a distance, and features a spring mounted, fillable weighted base that allows it to withstand high winds without toppling over.  The moulded base is strong enough to cope with an occasional bump from a vehicle, and your graphics are safely enclosed in a snap-fronted case to protect them from moisture, grease and other hazards.  As an alternative, the Philadelphia display also offers super-robust performance thanks to a weighted base that accepts a rigid media panel.  While the Philadelphia isn't quite so reliable in strong winds, it's great when you need a slightly more refined display in a tricky location, and the rigid panel has the added bonus of being easy to clean.  It's especially ideal for outdoor events, since the small base is easy to transport and store when empty – you can also use more than one base to hold an extra large graphics panel.