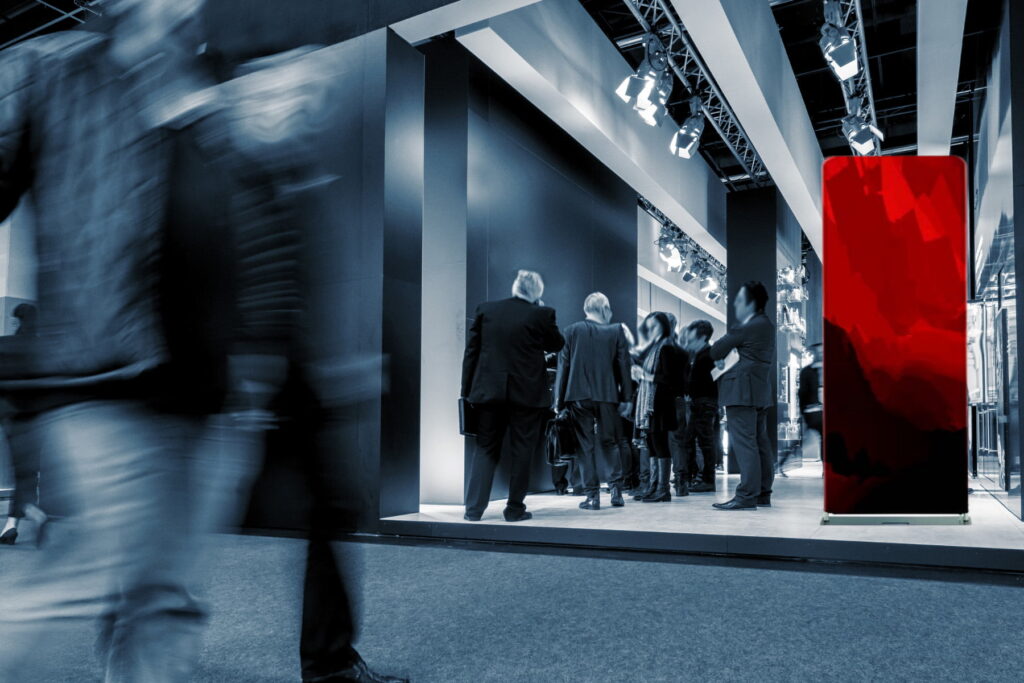 Anticipation is building for the return of the trade show circuit this fall, and a welcome return to the networking and demonstration events that so many businesses rely on as a mainstay of their sales strategy.
When it comes to exhibiting at trade shows, the general rule for displays is 'go big or go home'.  Trade shows are held in vast venues with lots of people, so size really matters if you want to get noticed.  Post-Covid, the venues may not be quite so large, but due to space restrictions, it's very possible that exhibitors will be able to take advantage of more square footage for their money.
For large displays and show backdrops, few systems can beat the impact and convenience of textile-based systems.  From individual totems to huge, multi-panelled backdrops, these versatile displays tick all the boxes for exhibitors wanting to pack a punch!
Textile and show displays have a number of key advantages, the most important of which is their portability.  Considering the sheer size of some of these displays (they go up to several square meters in area), you'd be forgiven for thinking they require specialist installers to assemble them – but you don't!  With their modular construction and lightweight fabric graphics, they can be assembled, dismantled and transported by one or two people, with no special equipment or training required. 
Large-scale show displays are normally composed of a lightweight aluminum frame that either slots together or 'pops' up using a concertina-style folding frame.  The fabric graphics panel is then stretched onto the frame – some are sleeve-style and require no fixings, while others may rely on hook and loop tape or a silicone edge and channel system to attach them.  Whatever the system, once the fabric is snugly in place it gives additional strength and stability to the whole display.  
When the show's over, your display can be dismantled and packed away into its sturdy carry case – generally speaking these are rigid to protect the frame from damage in storage or transit, and many even double up as a freestanding podium that gives your show display a really professional look – check out our Sydney II model for an example of this.
Grab customers' attention
While the largest show displays and backdrops tend to be single-sided, the freestanding 'sleeve' style models offer a double-sided solution that's ideal for catching the attention of passers-by, or even for creating branded privacy dividers for 'rooms' within your trade stand pitch.  Check out Frontline's Ashton display for a small-scale solution, or invest in the Madison for a captivating freestanding display that goes up to 20ft in width.  Both are really versatile and will be used year after year – simply update your graphics and you're good to go.
Clients sometimes worry that graphics printed on fabric won't be as crisp or vibrant as those printed on a rigid or vinyl substrate, but thanks to the magic of dye sublimation printing, these concerns are unfounded.  Dye sublimation is a chemical process that converts specialist inks into gas, which then penetrates the fabric being printed.  This means that instead of being applied to the surface of the fabric, your design is infused into and permanently bonded with the fabric itself.  As a result, dye-sublimation printing can deliver excellent colour vibrancy, crispness and durability in use.
Another fantastic thing about textile-based displays is that they're more eco-friendly than their retractable or solid-surface counterparts.  Dye sublimation printing works best on man-made fibres, and as such the fabric used for tension displays is often made from recycled materials like plastic bottles!  When you're finished with it, the fabric itself can also be recycled – unlike vinyl or PVC displays which are notoriously tricky to dispose of responsibly.So if you're aiming to create big impact on the trade show circuit this fall, a textile-based show display is the perfect way to do it! To find out more about our range of versatile, high quality displays, get in touch!