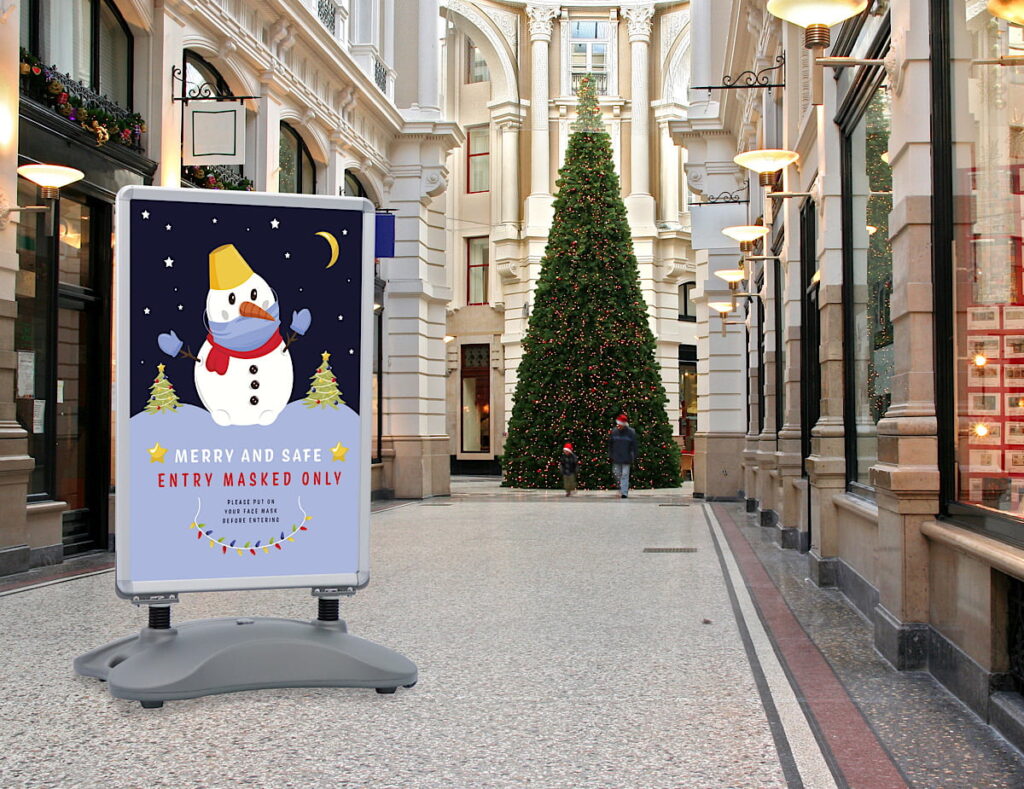 It's surreal that we're still dealing with major fallout from the pandemic almost two years on – but as we head into our second COVID Christmas, it's a relief to know that at least some normality has returned to the festive shopping season.
Nevertheless, retailers still face challenges both in terms of luring their customers back from the comfort zone of online shopping, and also making sure they feel safe and comfortable once they do come into stores.
They're also facing possible supply chain shortages, which are being experienced worldwide as a ripple effect of operational and travel shutdowns over the past 18 months. 
All of these factors are putting bricks and mortar retailers under increased pressure. 
Shoppers who feel that e-commerce is faster may yet be tempted into stores by unmissable offers – if those stores can get themselves noticed effectively.
Customers panicking that items may be in short supply are likely to shop earlier – and stores with stock of hard-to-find items could find themselves inundated.
Either way, it's a good idea for stores to update their signage! 
Many retailers may be working with holiday signage that's two years old, since last Christmas the focus was very much on acquiring new signs for managing safety and hygiene. Existing promotional signs that were due for a refresh became a lower priority, and may now be out of date, or showing signs of wear and tear.
Freshening up your signage means you can better communicate those valuable safety policies and other essential information with your customers – and of course, squeeze in a few eye-catching new marketing signs too!
Whether highlighting your holiday sales or gently reminding shoppers about your safety procedures, signage lets customers know what to expect up front and communicates how much you care about making this holiday season as special – and safe – as possible.
Signage for the holiday season
Want some ideas to help your holiday signs stay merry and bright? Try these easy refresh suggestions.
1. Queue signs
Social distancing looks like it could be with us for the long haul – but not everyone can judge six feet by sight alone.  Since nobody enjoys waiting in line – especially at busy times – this is a key location where people need a reminder to give their fellow shoppers a little extra room.  Using free-standing signage like our Vienna slide-in frame is a great way to direct the queue at your checkout while reminding shoppers to keep their distance.
2. Hand hygiene signs
The virus hasn't gone away and that means hand hygiene will have a big role to play in preventing the spread.  If customers sanitize their hands as they enter your premises, the risk of contaminating goods and surfaces is vastly reduced – which gives other shoppers confidence to come in.  There's nothing more annoying than a hand sanitizer station that's faulty or empty, so investing in a heavy duty model like our Marshall sanitizer stand is a great idea.  Built-in signage means you can issue a timely reminder to every customer that enters your store.
3. In-store or curbside pickup signs
No matter how much you do, there will still be consumers that are too cautious to shop in person. You can ensure they don't miss out on this year's shopping season by letting them know you offer in-store or curbside pickup options. Just make sure you have wayfinding signs that clearly designate where to go while in-store or designating parking areas that can make their runs go as quickly and efficiently as possible.
4. Promotional signs
You don't need us to tell you that promotional signs can help alert shoppers to special deals and increase revenues.  But aside from how they help your business, have you thought about how promotional signage helps your customer?  All but the most laid-back individuals are likely still feeling cautious about COVID – and uncomfortable about being in crowded places.  When it comes to festive shopping, they want to get in, find what they need and get out again quickly – and well-designed, prominent promotional signs can help them do exactly that.  
5. Wayfinding signs
A lot has changed on the high street since the start of the pandemic – and not just consumer behaviour!  Some stores have closed while new ones have opened, and customers may simply not be aware that you're still around – so remind them with outdoor signage that they can't miss!  Check out our range of ultra-durable sidewalk signs and turn passers-by into paying customers!
For further information on any of our signage and display products, get in touch.